CONNAGE GOUDA CHEESE 150g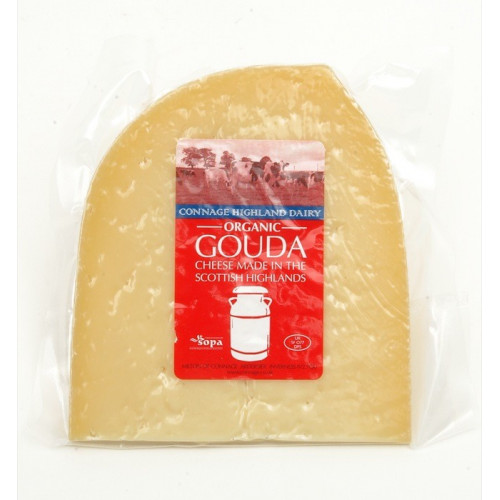 This Connage Gouda is a pasteurized waxed cheese, which ranges from sweet and mild maturing to a firmer texture with a stronger flavour.
Based at a family farm in the Scottish Highlands, Connage highland Dairy are a traditional, family run organic company. They have produced their wide range of cheese since January 2006, their products are fully traceable and they have the highest standards when it comes to the welfare of their cows. Which in turn adds to the high standard of cheese in which they create as it results in their milk having a full and luscious taste. They use traditional, time tested methods in the production of their milk, to ensure customer satisfaction every time. Their high standards and quality produce have been recognized several times, as they have received a number of awards, from a gold at the World Cheese Awards in 2007, to the British Cheese Awards – Best of Category 2008. From their light crumbly pasteurized Connage Cromal to their smooth pasteurized delicately flavoured brie, their cheese has a distinctive, natural and generally scrumptious taste.